To spice things up around here, I'm participating in Finish-the-Sentence Friday, which I discovered on the fabulously funny Kate Hall's blog Can I Get Another Bottle of Whine. Premise: they provide a sentence, I finish it. Basic stuff. And I do so love a prompt…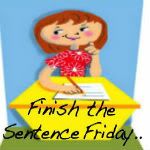 When I was younger I tried…
…to gaslight my sister. I know, what kind of psychopath does that? Apparently, this psychopath. I didn't even realize I was doing it, I was just trying to make her life as miserable as she made mine through the only means available to me: emotional manipulation and passive-aggressive mind tricks.
*Note: my sister and I have been on very good terms for the past sixteen years. It was a phase for which she (I think?) has forgiven me. Please don't report me to social services.
The rivalry between my sister and me can be traced deep into ancient family folklore. According to legend, on the very day she was born, I hit her. What kind of emotionally unstable two-year-old does that? I guess I was jealous of all the attention everyone paid her adorable self, in all her Gerber-infant glory. No two-year-old wants to be upstaged by anyone, least of all a newborn baby.
My poor mother.
Fast-forward a few years, and we shared a bedroom. Now first off, I've never been a good sharer unless the share is contracted within tight parameters. For instance, I will loan you my Barbie, but under the terms of the loan she must be; a.) returned within the hour, b.) returned in the condition in which you received her. So sharing space in which to live? Not an ideal situation. Plus she was a typical messy younger sibling who would constantly be touching my stuff, Mom, she's pulling out Teddy Ruxpin AGAIN! Make her put it AWAY! She's going to RUIN HIM!
Since walloping her was an unavailable option for me because it would lead to my being punished, naturally, I had to get back at her in other ways. On car rides I would pinch her when my parents weren't looking, then after wailing, she would get in trouble.
"But mom, it was Natalie!" she'd moan plaintively.
"I didn't touch her," I'd say with all the rationality of a Rhodes Scholar. I was a good liar.
She would get in trouble for howling, because I cunningly deflected the annoyance of the situation onto her while she was still too young to effectively defend herself.
I know, I am a horrible person.
My tricks later extended to convincing her that if she didn't do petty favors for me, like get me a drink of water at night (what? I was on the top bunk), I would tell all of her friends not to be friends with her anymore…
…this whole exercise is not painting me in the best light. At least I can say that I outgrew this sociopathic manipulative phase fairly young.
So anyway, these are just a few examples, the ones that stand out most in my memory. I am positive she has tried to block a lot of it out, and in any case, why bring up ancient history? I don't do things like that anymore. Unlike Dexter, I outgrew my Dark Passenger.